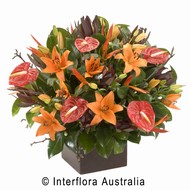 We're here to help! We want to make your shopping experience with Woodside Florist in Perth as easy and pleasant as possible. Read our frequently asked questions to find immediate answers to your questions or
contact us
by email or phone (+61 8) 9322 4211.
FAQs About Shopping Online
How do I find a specific item?
You can browse for a product by moving your mouse over the flower and gift categories listed on the left menu of every page. Click on the category item to see flower arrangements within this category. You can browse flowers, plants or gifts. If you don't find what you are interested in, please click on the special request button to email us your individual request.
How do I place an order?
It's easy. First click on the product image or product name to view the item details. To add an item to your order, enter the quantity you wish to purchase into the "quantity" box, add any extras and then click the "place order" button.

When you are ready to pay for your order, click on the CHECKOUT link showing on the view cart page or in the top panel.

The checkout will open a new browser window and from here you will complete a series of forms with your billing details and the delivery details including any special messages for the recipient.

Upon completing these forms, just click "confirm order" and you're order will be placed. A confirmation page will show a summary of your transaction. You may choose to print this for your records. An email with full details of your order will be sent to straight away as well.

Phone/Fax Orders You can also place your order by calling us at (6 18) 9322 4211 or by faxing us at (6 18) 9322 7911
What happens if I did not receive an email confirmation when I placed my order online?
When you place an order online you will automatically receive an email notifying that we have received your order into our system. This email will contain a confirmation number for your reference. Please note, if you do not receive an email with a confirmation number than your order has not been received or you put in an incorrect email address by mistake. Try placing another order and mention in the special instructions box in the checkout that you dont think your last attempt was successful. We dont debit your card until we have seen the order so you wont be charged twice.
Do your retail stores carry the same products as the Web-site?
While our retail store offers the widest variety of products, many of these products are also offered on our web site. When you shop online you will find flowers, plants and unique gifts that are exclusive to our web customers.
What forms of payment do you accept?
For your convenience, we accept Visa, MasterCard, American Express and Diners Club when you order online.
Is my personal information confidential?
We consider the personal information you provide to us to be confidential. This information is used to fulfill your order or personalise your shopping experience. Identifying information is not rented or sold. For more detailed information, please see our privacy policy
How do I know that my online transactions are safe?
Woodside Florist in Perth put a high priority on protecting your privacy. We use a minimum of SSL 128 bit encryption technology to ensure your details remain secure when you submit a payment. For more information, see our security page.