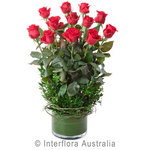 Ordering from Woodside Florist in Perth is friendly, secure and quick. Woodside Florist have been expertly delivering beautiful flowers and gifts for over 15 years. Delivery drivers as well as a preferred reliable courier services guarantee safe and prompt delivery of our flowers and gifts.
What are Woodside Florists's normal delivery days and times?
Normal delivery hours for Woodside Florist are between 9am and 5pm Monday-Saturday (not including public holidays).
What areas do Woodside Florist deliver to?
Woodside Florist prepares and delivers its own arrangements within the Perth Metropolitan area. We also have a network of affiliates around the world and can deliver to almost anywhere in the world. Please note that products, packaging and or containers may vary in some interstate and or regional areas.
Can I order items online for delivery outside of Australia and New Zealand?
We do offer delivery outside of Australia and New Zealand. If you wish to place an order for delivery of an item outside of Australia or New Zealand, please call us at (+ 61 8) 9322 4211 or email us and we will gladly assist you.
What is the deadline for placing an order online to guarantee same-day delivery?
Orders must be placed by 2pm (Perth Time) Monday - Friday and by 11 am (Perth Time) Saturday to guarantee same day delivery. As Woodside Florist is closed on public holidays, we will deliver your gift on the next business day. ALL orders placed after 12pm on Saturday and at any time of day on Sunday will be processed on the following Monday morning. Any specific information about your delivery will be forwarded to you at that time.
Can you guarantee a specific time for a delivery?
Woodside Florist cannot guarantee a specific delivery time. We will make every attempt to fulfil your request but cannot guarantee it. All orders to businesses will be delivered by close of business, given that correct delivery details have been supplied.
Do you ring the recipient prior to delivery?
You can request us to call the recipient prior to delivery by putting a note in the "special instructions" field on the order page. Please note, that all deliveries to hospitals are confirmed prior to delivery.
What happens if the recipient is not at home?
If the recipient is not home when the delivery is made the gift will be left at the recipients front or back door, if requested to do so by the sender; or if our experienced couriers deem it safe to do so. Otherwise, a calling card will be left on the recipient's door or in their letterbox asking them to call us to arrange a suitable for re-delivery. Additional Charges may apply.
What happens if the delivery details supplied are incorrect?
Firstly, Woodside Florist will attempt to find the correct address. If the flowers are delivered to the address supplied by the customer and the address is incorrect, then if the flowers are recovered, Woodside Florist in Perth will contact the customer and additional charges may apply for re-delivery. However, if the flowers are delivered to an incorrect address and are not recovered, Woodside Florist can not accept any responsibility for such loss. It is the obligation of the customer to supply accurate details at the time of ordering.
Further Information
Please do not hesitate to contact one of our friendly staff members to answer any further queries or concerns you may have. Phone: (+ 61 8) 9322 4211 or email info@woodsideflorist.com.au.